Bible verses about death can give us strength and encouragement at the worst of times. Death comes to us all, but losing someone is still one of the worst experiences that life brings. And during difficult times, the bible can offer us hope, guidance and inspiration. We hope you find this collection of bible verses about death useful and comforting.
Bible Verses About Death
Then I heard a voice from heaven say, "Write this: Blessed are the dead who die in the Lord from now on." "Yes," says the Spirit, "they will rest from their labor, for their deeds will follow them."

Revelation 14:13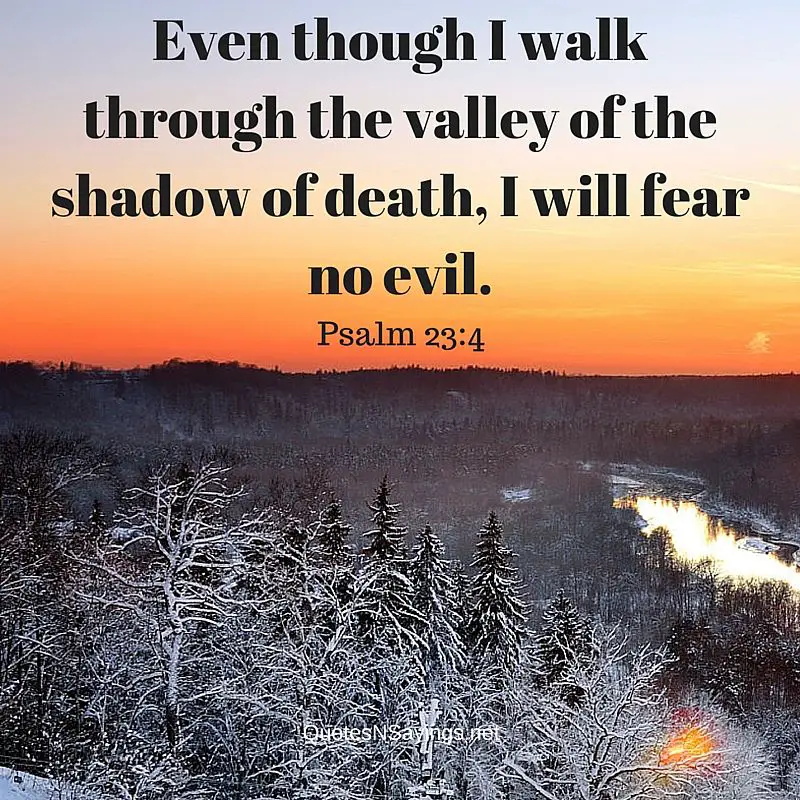 Even though I walk through the valley of the shadow of death, I will fear no evil.

Psalm 23:4
Let not your hearts be troubled. Believe in God; believe also in me. In my Father's house are many rooms. If it were not so, would I have told you that I go to prepare a place for you? And if I go and prepare a place for you, I will come again and will take you to myself, that where I am you may be also. And you know the way to where I am going.

John 14:1-4
Our God is a God who saves; from the Sovereign LORD comes escape from death.

Psalm 68:20
Brothers and sisters, we do not want you to be uninformed about those who sleep in death, so that you do not grieve like the rest of mankind, who have no hope. For we believe that Jesus died and rose again, and so we believe that God will bring with Jesus those who have fallen asleep in him.

1 Thessalonians 4:13-14
Jesus said to her, "I am the resurrection and the life. The one who believes in me will live, even though they die; and whoever lives by believing in me will never die. Do you believe this?"

John 11:25-26
Precious in the sight of the Lord is the death of his faithful servants.

Psalm 116:15
So we are always of good courage. We know that while we are at home in the body we are away from the Lord, for we walk by faith, not by sight. Yes, we are of good courage, and we would rather be away from the body and at home with the Lord.

2 Corinthians 5:6-8
For to me, to live is Christ and to die is gain.

Philippians 1:21
When the perishable puts on the imperishable, and the mortal puts on immortality, then shall come to pass the saying that is written: "Death is swallowed up in victory." "O death, where is your victory? O death, where is your sting?" The sting of death is sin, and the power of sin is the law. But thanks be to God, who gives us the victory through our Lord Jesus Christ.

1 Corinthians 15:54-57
For God so loved the world that he gave his one and only Son, that whoever believes in him shall not perish but have eternal life.

John 3:16
For the wages of sin is death, but the gift of God is eternal life in Christ Jesus our Lord.

Romans 6:23
So will it be with the resurrection of the dead. The body that is sown is perishable, it is raised imperishable; it is sown in dishonor, it is raised in glory; it is sown in weakness, it is raised in power; it is sown a natural body, it is raised a spiritual body. If there is a natural body, there is also a spiritual body.

1 Corinthians 15:42-44
Blessed are those who mourn, for they will be comforted.

Matthew 5:4
The righteous perish, and no one takes it to heart; the devout are taken away, and no one understands that the righteous are taken away to be spared from evil. Those who walk uprightly enter into peace; they find rest as they lie in death.

Isaiah 57:1-2
But in fact Christ has been raised from the dead, the firstfruits of those who have fallen asleep. For as by a man came death, by a man has come also the resurrection of the dead. For as in Adam all die, so also in Christ shall all be made alive. But each in his own order: Christ the firstfruits, then at his coming those who belong to Christ.

1 Corinthians 15:20-23
Blessed be the God and Father of our Lord Jesus Christ! According to his great mercy, he has caused us to be born again to a living hope through the resurrection of Jesus Christ from the dead, to an inheritance that is imperishable, undefiled, and unfading, kept in heaven for you, who by God's power are being guarded through faith for a salvation ready to be revealed in the last time.

1 Peter 1:3-5
For our light and momentary troubles are achieving for us an eternal glory that far outweighs them all. So we fix our eyes not on what is seen, but on what is unseen, since what is seen is temporary, but what is unseen is eternal.

2 Corinthians 4:17-18
He will wipe every tear from their eyes. There will be no more death or mourning or crying or pain, for the old order of things has passed away.

Revelation 21:4
If we live, we live for the Lord; and if we die, we die for the Lord. So, whether we live or die, we belong to the Lord.

Romans 14:8
For the Lord himself will descend from heaven with a cry of command, with the voice of an archangel, and with the sound of the trumpet of God. And the dead in Christ will rise first. Then we who are alive, who are left, will be caught up together with them in the clouds to meet the Lord in the air, and so we will always be with the Lord. Therefore encourage one another with these words.

1 Thessalonians 4:16-18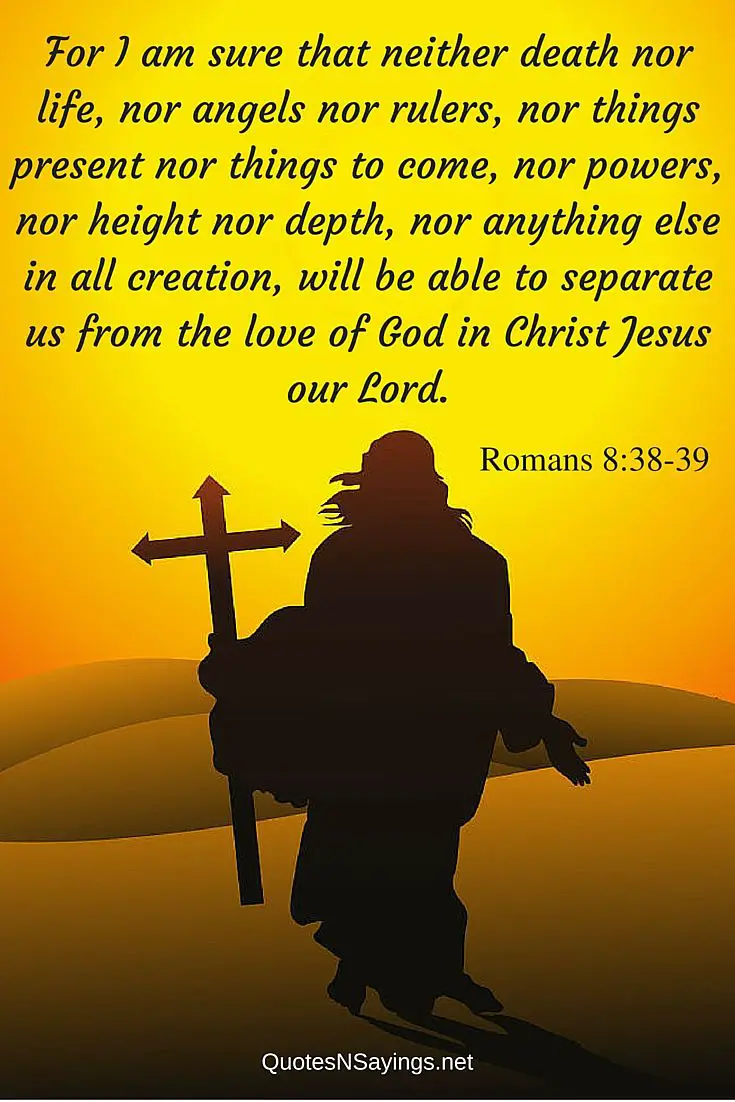 For I am sure that neither death nor life, nor angels nor rulers, nor things present nor things to come, nor powers, nor height nor depth, nor anything else in all creation, will be able to separate us from the love of God in Christ Jesus our Lord.

Romans 8:38-39
A good name is better than fine perfume, and the day of death better than the day of birth.

Ecclesiastes 7:1
For he must reign, until he has put all enemies under his feet. The last enemy that shall be destroyed is death.

1 Corinthians 15:25-26
Bible Verses About Death
If you enjoyed our bible verses about death, you may also enjoy our bible verses about family, bible verses about mothers and our scriptures on comfort.