Sport is a rich source of inspirational and motivational quotes, and track and field is no exception. It's also a source of some extremely funny quotes too as for some reason it seems to attract more than its fair share of calamity quotes, whether from commentators or the athletes themselves.
Here's a collection of track and field quotes that contains examples of all types.
Track And Field Quotes
The only one who can beat me is me. ~ Michael Johnson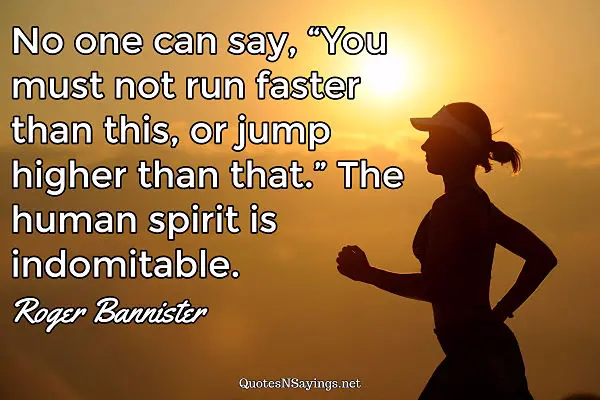 No one can say, "You must not run faster than this, or jump higher than that." The human spirit is indomitable. ~ Roger Bannister
All top international athletes wake up in the morning feeling tired and go to bed feeling very tired. ~ Brendan Foster
In a moment we hope to see the pole vault over the satellite. ~ David Coleman
Train hard while others don't, so you can win while your opponents won't. ~ Andre Bramble
Behind every good decathlete, there's a good doctor. ~ Bill Toomey
To give anything less than your best is to sacrifice the gift. ~ Steve Prefontaine
I don't think the discus will generate any interest until they let us start throwing them at one another. ~ Al Oerter
The battles that count aren't the ones for gold medals. The struggles within yourself – the invisible, inevitable battles inside all of us – that's where it's at. ~ Jesse Owens
Mental will is a muscle that needs exercise, just like muscles of the body. ~ Lynn Jennings
Italian men and Russian women do not shave before a race. ~ Eddit Ottoz
Ask yourself, "Can I give more?" The answer is usually, "Yes". ~ Paul Tergat
That's the fastest time ever run, but it's not as fast as the world record. ~ David Coleman
The decathlon is nine Mickey Mouse events and the 1,500 metres. ~ Steve Ovett
It hurts up to a point and then it doesn't get any worse. ~ Ann Trason
To be number one, you have to train like you're number two. ~ Maurice Greene
The ultimate winners are willing to take ultimate risks. ~ Brooks Johnson
I like running, because it's a challenge. If you run hard, there's the pain, and you've got to work your way though the pain. You know, lately it seems all you hear is "Don't overdo it" and "Don't push yourself." Well, I think that's a lot of bull. If you push the human body, it will respond." ~ Bob Clarke
She's not Ben Johnson, but then who is? ~ David Coleman
The pride you gain is worth the pain. ~ Dennis Ogilvie
Track and field is the best way to reach out for kids. It doesn't matter how fast you are. You always want to beat someone. ~ Carl Lewis
One chance is all you need. ~ Jesse Owens
I became a great runner because if you're a kid in Leeds and your name is Sebastian you've got to become a great runner. ~ Sebastian Coe
Racing teaches us to challenge ourselves. It teaches us to push beyond where we thought we could go. It helps us to find out what we are made of. This is what we do. This is what it's all about. ~ PattiSue Plumer
There is no such thing as bad weather, just soft people. ~ Bill Bowerman
Life is often compared to a marathon, but I think it is more like being a sprinter; long stretches of hard work punctuated by brief moments in which we are given the opportunity to perform at our best. ~ Michael Johnson
Running is like mouthwash; if you can feel the burn, it's working. ~ Brian Tackett
You have to forget your last marathon before you try another. Your mind can't know what's coming. ~ Frank Shorter
The true measure of a runner isn't in time, but rather in the effort it took along the way. ~ Jenny Hadfield
The will to win means nothing without the will to prepare. ~ Juma Ikangaa
There is Brendan Foster, by himself with 20,000 people. ~ David Coleman
Somewhere in the world someone is training when you are not. When you race him, he will win. ~ Tom Fleming
And finally she tastes the sweet smell of success. ~ Ian Edwards
Track And Field Quotes
If you liked these track and field quotes, also check out our soccer quotes and our tennis quotes.