Baseball was first played in England back in the 18th century but it's in the U.S. where it's truly popular and has long had a cultural impact. Here is a collection of our favorite baseball quotes …
Baseball Quotes
Every strike brings me closer to the next home run.

Yogi Berra
Baseball is almost the only orderly thing in a very unorderly world. If you get three strikes, even the best lawyer in the world can't get you off.

Bill Veeck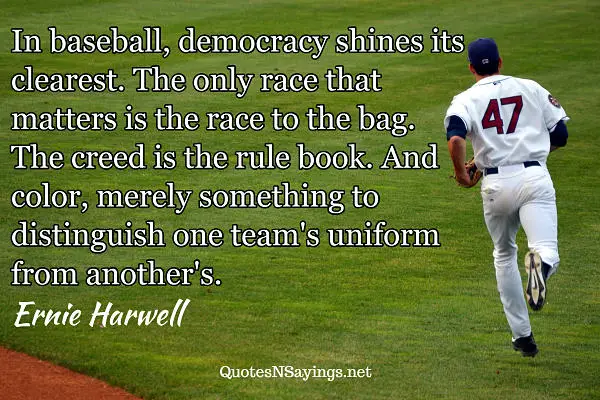 In baseball, democracy shines its clearest. The only race that matters is the race to the bag. The creed is the rule book. And color, merely something to distinguish one team's uniform from another's.

Ernie Harwell
Baseball is like driving, it's the one who gets home safely that counts.

Tommy Lasorda
Say this for big league baseball – it is beyond any question the greatest conversation piece ever invented in America.

Bruce Catton
Baseball is like church. Many attend, few understand.

Leo Durocher
People ask me what I do in winter when there's no baseball. I'll tell you what I do. I stare out the window and wait for spring.

Rogers Hornsby
I see great things in baseball. It's our game – the American game.

Walt Whitman
Never allow the fear of striking out keep you from playing the game.

Babe Ruth
I watch a lot of baseball on the radio.

Gerald Ford
There is no room in baseball for discrimination. It is our national pastime and a game for all.

Lou Gehrig
It took me seventeen years to get three thousand hits in baseball. It took one afternoon on the golf course.

Hank Aaron
Baseball is a game, yes. It is also a business. But what it most truly is, is disguised combat. For all its gentility, its almost leisurely pace, baseball is violence under wraps.

Willie Mays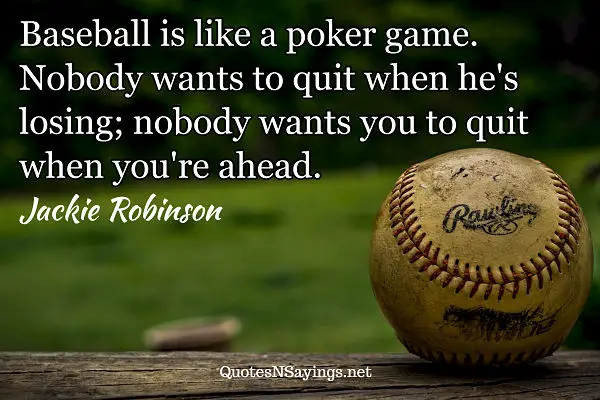 Baseball is like a poker game. Nobody wants to quit when he's losing; nobody wants you to quit when you're ahead.

Jackie Robinson
No matter how good you are, you're going to lose one-third of your games. No matter how bad you are you're going to win one-third of your games. It's the other third that makes the difference.

Tommy Lasorda
Baseball is ninety percent mental and the other half is physical.

Yogi Berra
The secret of managing is to keep the guys who hate you away from the guys who are undecided.

Casey Stengel
Baseball is a lot like life. It's a day-to-day existence, full of ups and downs. You make the most of your opportunities in baseball as you do in life.

Ernie Harwell
Baseball was, is and always will be to me the best game in the world.

Babe Ruth
Baseball gives every American boy a chance to excel, not just to be as good as someone else but to be better than someone else. This is the nature of man and the name of the game.

Ted Williams
Just give me 25 guys on the last years of their contracts; I'll win a pennant every year.

Sparky Anderson
You can't be afraid to make errors! You can't be afraid to be naked before the crowd, because no one can ever master the game of baseball, or conquer it. You can only challenge it.

Lou Brock
One of the beautiful things about baseball is that every once in a while you come into a situation where you want to, and where you have to, reach down and prove something.

Nolan Ryan
The tradition of professional baseball always has been agreeably free of chivalry. The rule is, 'Do anything you can get away with.'

Heywood Broun
You could be a kid for as long as you want when you play baseball.

Cal Ripken, Jr.
I'm throwing twice as hard as I ever did. The ball's just not getting there as fast.

'Lefty' Gomez
After I hit a home run I had a habit of running the bases with my head down. I figured the pitcher already felt bad enough without me showing him up rounding the bases.

Mickey Mantle
If people don't want to come out to the ball park, nobody's going to stop them.

Yogi Berra
Building a baseball team is like building a house. You look for the best architects, the best builders – and then you let them do their jobs.

Pat Gillick
If you have a bad day in baseball, and start thinking about it, you will have 10 more.

Sammy Sosa
There are three types of baseball players: Those who make it happen, those who watch it happen and those who wonder what happens.

Tommy Lasorda
Predictions are difficult. Especially about the future.

Yogi Berra
Baseball is a team game but, at the same time, it's a very lonely game: unlike in soccer or basketball, where players roam around, in baseball everyone has their little plot of the field to tend. When the action comes to you, the spotlight is on you but no one can help you.

Chad Harbach
Quotes About Baseball
If you liked these baseball quotes, you will probably also like the rest of our sports quotes too.