It's not always easy being a single mother despite the joys that parenthood can bring. So here's a collection of the most inspirational single mother quotes to provide solace and a pick me up to anyone who's struggling at the moment.
Single Mother Quotes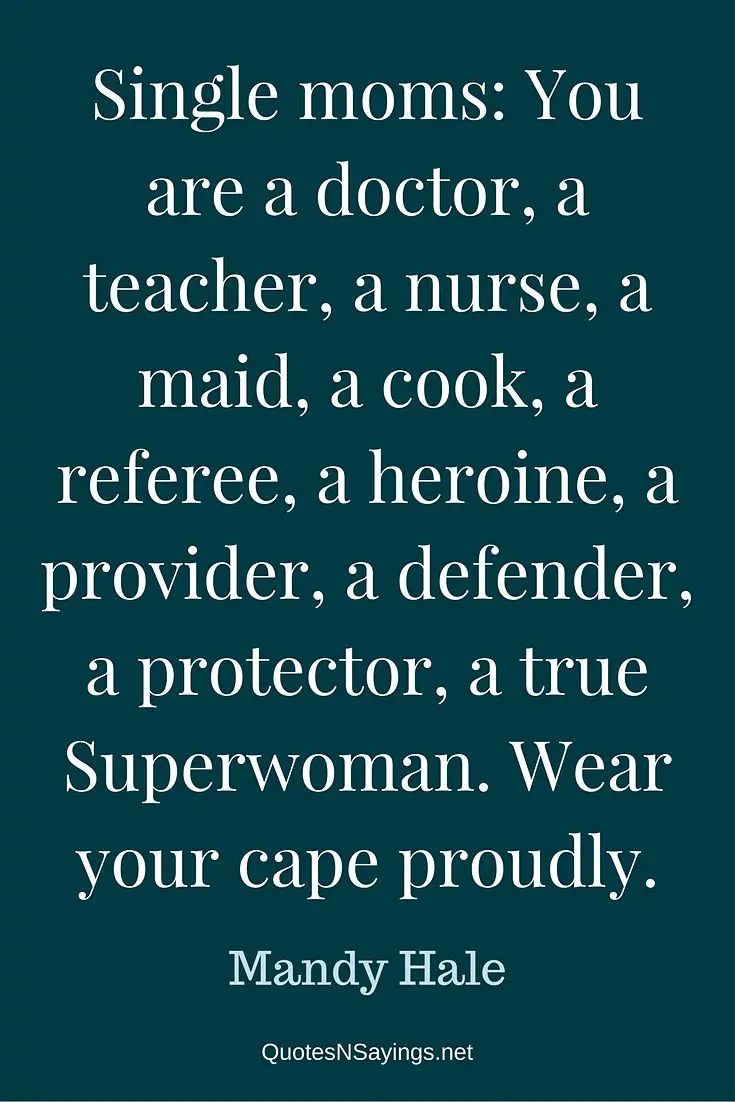 Single moms: You are a doctor, a teacher, a nurse, a maid, a cook, a referee, a heroine, a provider, a defender, a protector, a true Superwoman. Wear your cape proudly. ~ Mandy Hale
I am prouder of my years as a single mother than of any other part of my life. ~ J. K. Rowling
I have such admiration for single mothers. I simply don't comprehend how you'd cope with that intensity, the lack of breaks, ever, on your own. ~ Jo Brand
It's hard growing up without a father, but it's easy when you have a fantastic mother who plays both roles. ~ Unknown
My mother is extraordinary; she's a superwoman, like so many other single mothers who are out there. ~ Wes Moore
A single mom tries when things are hard. She never gives up. She believes in her family, even when things are tough. She knows that above all things… a mother's love is more than enough. ~ Deniece Williams
My mom was essentially a single mother raising three boys. If anyone could have had any reason to give up, it was her. But she didn't, and neither did we. ~ Chuck Norris
Being a single mother is twice the work, twice the stress and twice the tears but also twice the hugs, twice the love and twice the pride. ~ Unknown
Single motherhood is an amazing thing; it's a blessing. ~ Kelly Cutrone
I didn't plan on being a single mom, but you have to deal with the cards you are dealt the best way you can. ~ Tichina Arnold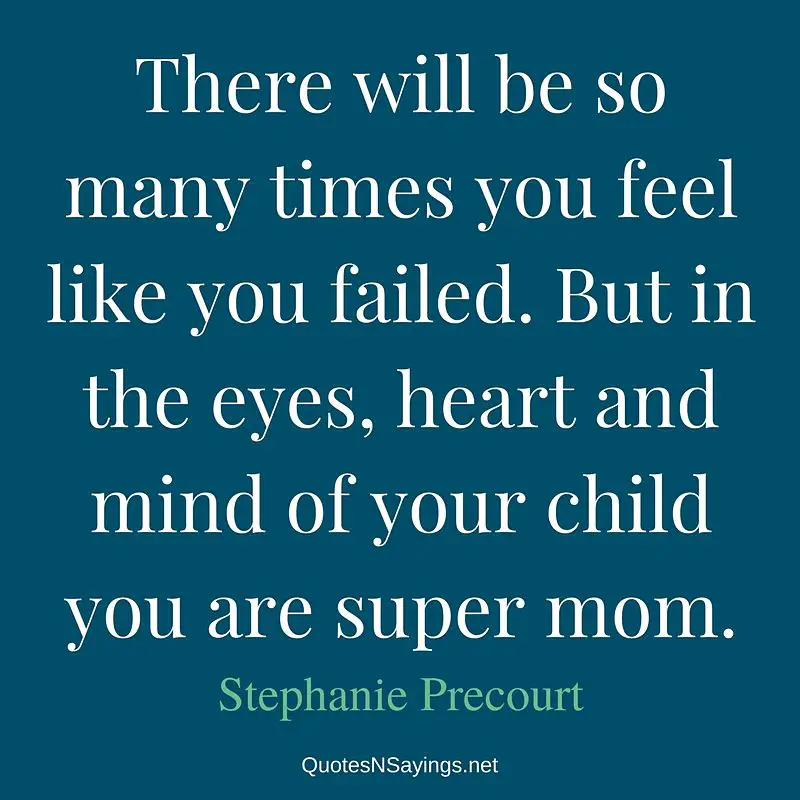 There will be so many times you feel like you failed. But in the eyes, heart and mind of your child you are super mom. ~ Stephanie Precourt
Raising a family is difficult enough. But it's even more difficult for single parents struggling to make ends meet. They don't need more obstacles. They need more opportunities. ~ Bill Richardson
I am a single mom and I'm the breadwinner and I have to work and I have to do these things and that's just the way it is. I don't think my son even knows any different. ~ Charisma Carpenter
I was raised by a single mother who made a way for me. She used to scrub floors as a domestic worker, put a cleaning rag in her pocketbook and ride the subways in Brooklyn so I would have food on the table. But she taught me as I walked her to the subway that life is about not where you start, but where you're going. That's family values. ~ Al Sharpton
Remember that a single mom is just like any other mom and that our number one priority is till our kids. Any parent does whatever it takes for their kids and a single mother is no different. ~ Paula Miranda
We don't get to choose who we fall in love with. If we did, the world would have fewer single mothers. ~ Margaret A. Belt
I was divorced when my children were young, so I was a single mother for a while. It's so hard to have to do every little thing yourself and be forced to navigate the rocky emotions of motherhood alone. ~ Terri Blackstock
Single mothers have as much to teach their children as married mothers and as much love to share – maybe more. Yet their motives are often labelled selfish and single-minded – never mind all the babies brought into the world to snag husbands, "save" faltering marriages or produce heirs. ~ Anne Cassidy
I'm not really single. I mean I am, but I have a son. Being a single mother is different from being a single woman. ~ Kate Hudson
You know, I don't think any mother aims to be a single mom. I didn't wish for that, but it happened. ~ Charlize Theron
I was once a single mother, with very few resources, so I have a special place in my heart for women in difficult situations. ~ Linda Lael Miller
I love being a single mom. But it's definitely different when you're dating. ~ Brooke Burns
She has to have four arms, four legs, four eyes, two hearts, and double the love. There is nothing single about a single mom. ~ Mandy Hale
Honestly, I have s much respect for single moms or anybody who finds themselves a single mother, but to even choose to be single mother is just so courageous to me. It is such a hard job to raise a child and be everything to that child without a partner. It's just admirable and courageous and brave and every other valiant word I can think of. I don't know if I could do it on my own. ~ Jennifer Lopez
As a single mom, I'm juggling a lot and working long hours. Yes, it costs them a little, but what my children get in return is a mother who is energized and content. ~ Edie Falco
I've been a single parent for a long time. It reminds me of being a waitress. As you walk back to the kitchen, requests come at you from all sides. You're doing the job of two – you have to be highly organised. ~ Cherie Lunghi
You can have sex with whomever you want to; you're not trapped with the person you had the baby with. You can pick the name, religion, schools, what they wear. There's no consulting – you call all the shots. Single motherhood is an amazing thing; it's a blessing. ~ Kelly Cutrone
What is free time? I'm a single mother. My free moments are filled with loving my little girl. ~ Roma Downey
Just because a single-mom usually can't be bothered to spend much time on her make-up doesn't mean that she has given up on romance. ~ Kemmy Nola
I think being raised by a single mother put me on the outside, and I would watch my mothers married friends and think, Why does she put him down in public? or, Why is he so rude to her? It seemed to me that there were very few marriages where the couple were genuinely in a supportive, loving partnership. ~ Cherie Lunghi
I don't think I realised how stressed I was, being a single parent. It was really, really stressful. It's not easy on anybody. ~ Reese Witherspoon
It goes without saying that what a girl goes through, boys could not even comprehend. If we get the flu, we need a week. We're idiots. But what was the most powerful realization to me was, how do single mothers with a low income cope? I can't complain about my dumb life. That's what was most revelatory to me. ~ Gavin Rossdale
It was tough being a single mom. It was tough being in a divorce with children. Very, very hard. ~ Melissa Etheridge
As a single mother of four, my mother taught me that you always want to show up strong for the moments that really matter with family, friends, and community. I now recognize how her strength helped shape the person I am today and the mother that I have become. ~ Andie MacDowell
After my husband died more than a decade ago, my mother prayed that I would remarry so that I could have a "normal" life again. Many people assumed that it would be too difficult for me to carry on as a single mother and raise a child without a man at my side. As the years went by, I found that it was indeed possible and that, in fact, I had no desire to remarry. ~ Mary Pope Osborne
Single Mother Quotes
If you liked our collection of single mother quotes, be sure to take a look at the rest of our quotes too, including all our other relationship quotes.