Sometimes in life you have to take a leap of faith and risk what you have in order to achieve success. Here's a great collection of the best quotes about taking chances to inspire you.
Best Quotes About Taking Chances
Never regret taking a chance, even if you fall on your face; It's better to know you tried and failed than to wonder the great "what if?".

Devin Frye
Probably some of the best things that have ever happened to you in life, happened because you said yes to something. Otherwise things just sort of stay the same.

Danny Wallace, Yes Man
No man is worth his salt who is not ready at all times to risk his well-being, to risk his body, to risk his life in a great cause.

Theodore Roosevelt
We must overcome the notion that we must be regular… it robs you of the chance to be extraordinary and leads you to the mediocre.

Uta Hagen
Progress always involves risks. You can't steal second base and keep your foot on first.

Frederick Wilcox
Playing it safe isn't fun; you have to take a chance.

Rick Nielsen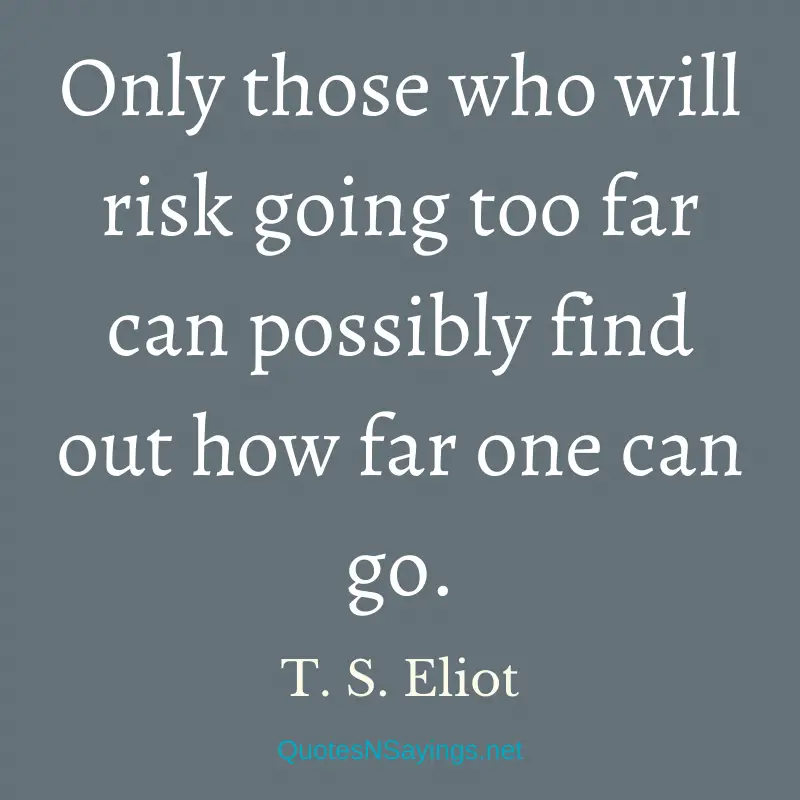 Only those who will risk going too far can possibly find out how far one can go.

T. S. Eliot
Don't be afraid to take a big step. You can't cross a chasm in two small jumps.

David Lloyd George
You have a chance to live your dream; do not let it vanish into the mists of the morning.

Byron Pulsifer
Do one thing every day that scares you.

Eleanor Roosevelt
It's so much worse to live in regret in your forties than it is to take a chance in your late twenties.

Donna Lynne Champlin
You will never experience personal growth, if you fear taking chances.

T. A. Sorensen, Where's My Purse?
You can measure opportunity with the same yardstick that measures the risk involved. They go together.

Earl Nightingale
It's not because things are difficult that we dare not venture. It's because we dare not venture that they are difficult.

Lucius Annaeus Seneca
If you aren't making some mistakes, you aren't taking enough chances.

John Sculley
Don't be someone who ends up with regrets because you didn't follow your dreams. Take that chance, take that risk it will be a memory that will be with you for your life.

Catherine Pulsifer
The dangers of life are infinite, and among them is safety.

Johann Wolfgang von Goethe
A man would do nothing, if he waited until he could do it so well that no one would find fault with what he has done.

Cardinal Newman
I've found that luck is quite predictable. If you want more luck, take more chances. Be more active. Show up more often.

Brian Tracy
I'd rather regret the things that I have done than the things that I have not done.

Lucille Ball
Sail away from the safe harbor. Catch the trade winds in your sails. Explore. Dream. Discover.

Mark Twain
The thing is most people are afraid to step out, to take a chance beyond their established identity.

Demi Moore
Take chances, make mistakes. That's how you grow. Pain nourishes your courage. You have to fail in order to practice being brave.

Mary Tyler Moore
Trust your heart if the seas catch fire (and live by love though the stars walk backward).

E.E. Cummings, dive for dreams
Do you want to be safe and good, or do you want to take a chance and be great?

Jimmy Johnson
Your regrets aren't what you did, but what you didn't do. So I take every opportunity.

Cameron Diaz
We all need to decide whether to 'play it safe' in life and worry about the downside, or instead take a chance, by being who we really are and living the life our heart desires. Which choice are you making?

Charlie Badenhop
Take a chance! All life is a chance. The man who goes farthest is generally the one who is willing to do and dare.

Dale Carnegie
I just got tired of waiting for things to happen through other people when so many other people are taking chances on following their dreams.

Christina Milian
You'll learn, as you get older, that rules are made to be broken. Be bold enough to live life on your terms, and never, ever apologize for it. Go against the grain, refuse to conform, take the road less traveled instead of the well-beaten path. Laugh in the face of adversity, and leap before you look. Dance as though EVERYBODY is watching. March to the beat of your own drummer. And stubbornly refuse to fit in.

Mandy Hale, The Single Woman
If you're not scared then you're not taking a chance. If you're not taking a chance then what the hell are you doing anyway?

Ted Mosby
May you always have courage to take a chance.

Irish Saying
If you are never scared, embarrassed or hurt, it means you never take chances.

Julia Soul
You learn so much from taking chances, whether they work out or not. Either way, you can grow from the experience and become stronger and smarter.

John Legend
Life can be about taking chances and finding really great things and yes, failing sometimes. Or it can be about wondering what if because you never dared to try.

Lauren Dane, Giving Chase
Everything you want lies on the other side of learning to trust yourself. Take a chance. Have faith. You already know who you are, what you want, and where you want to go.

Vironika Tugaleva
The only chance that we have of achieving our dreams is to take a risk, and most people who are consumed with negative self talk do not find the risk to be worth it.

Jennifer Smith
In an instant, we can make the choice to let our hearts stay broken or we can take a chance in living, and allow this beautiful adventure called life, set our hearts on fire.

L Rae Brown
The roller-coaster is my life; life is a fast, dizzying game; life is a parachute jump; it's taking chances, falling over and getting up again; it's mountaineering; it's wanting to get to the very top of yourself and feeling angry and dissatisfied when you don't manage it.

Paulo Coelho, Eleven Minutes
I have regrets. But that's from a lifetime of taking chances, making decisions, and trying not to be frozen.

Kevin Costner
The only safe thing is to take a chance.

Mike Nichols
If you stop taking chances, you'll stay where you sit. You won't live any longer, but it'll feel like it.

Bono
The important thing is not being afraid to take a chance. Remember, the greatest failure is to not try. Once you find something you love to do, be the best at doing it.

Debbi Fields
A lifetime isn't forever, so take the first chance, don't wait for the second one! Because sometimes, there aren't second chances! And if it turns out to be a mistake? So what! This is life! A whole bunch of mistakes! But if you never get a second chance at something you didn't take a first chance at? That's true failure.

C. JoyBell C.
Dare to fail. Dare to be different.

Mark Batterson
Never let your fear of the unknown and things being too difficult make your choices for you in life. One of the saddest lessons in life is finding out that your fear made the situation worse than what it was and a braver person stole the dream you gave up on.

Shannon L. Alder
Dare to take chances, follow your dreams, risk it all, fall in love, believe in yourself, ask questions, let go, make mistakes, start over, speak the truth, take responsibility, find happiness, live for today.

Anonymous
What great thing would you attempt if you knew you could not fail?

Robert Schuller
Just keep taking chances and having fun.

Garth Brooks
Love is taking chances when every rational part of you screams, "Don't risk it." Because it's only when your heart has been ripped open that you get a chance to find the one person capable of making it whole.

Sabrina Jeffries, A Lady Never Surrenders
I'm all about taking chances. You have to ask yourself, if you're not taking any chances, are you actually even living? Every time you walk out of your door and you're out in the world, you take a chance on not coming back. That is the danger and the dynamic of being alive.

CeeLo Green
Living means taking chances. Risks. Playing safe all the time is being dead inside, even if you happen to still be breathing.

Ellen Hopkins, Perfect
Opportunity dances with those on the dance floor.

Anonymous
Life is too short to wake up in the morning with regrets. If you get a chance, take it. If it changes your life, let it.

Anonymous
Living might mean taking chances but they're worth taking.

Lee Ann Womack, I Hope You Dance
Security is mostly a superstition. Life is either a daring adventure or nothing.

Helen Keller, The Open Door
Our lives improve only when we take chances – and the first and most difficult risk we can take is to be honest with ourselves.

Walter Anderson
Don't become a follower, begin to take a chance. Try becoming a dreamer and create your own dance.

Michelle C. Ustaszeski
We have to face our fears and plow through. I think taking chances takes a lot more courage than staying stagnant and doing what's safe and comfortable.

Terri Clark
I fear the boredom that comes with not learning and not taking chances.

Robert Fulghum
Be passionate about your life. Learn to live without the fear of failing. Take a chance, you just might surprise yourself.

Nishan Panwar
I believe in taking chances and living your life. Sometimes doors open and others close and you have to figure out which one you're going to take. I'm always for the one that's challenging.

Gisele Bundchen
And the day came when the risk to remain tight in a bud was more painful than the risk it took to blossom.

Anais Nin
Necessity is the mother of taking chances.

Mark Twain
People who don't take risks generally make about two big mistakes a year. People who do take risks generally make about two big mistakes a year.

Peter F. Drucker
Taking Chances Quotes
If you enjoyed these quotes about taking chances, you will probably also like our quotes about courage and our quotes about destiny.