'Tis the season to be jolly. And these heart-warming Merry Christmas quotes are sure to fill you with good cheer and bring on the festive spirit!
We wish you a very Merry Christmas!
Heart-Warming Merry Christmas Quotes
Gifts of time and love are surely the basic ingredients of a truly merry Christmas.

Peg Bracken
The best of all gifts around any Christmas tree: the presence of a happy family all wrapped up in each other.

Burton Hillis
It is Christmas in the heart that puts Christmas in the air.

W. T. Ellis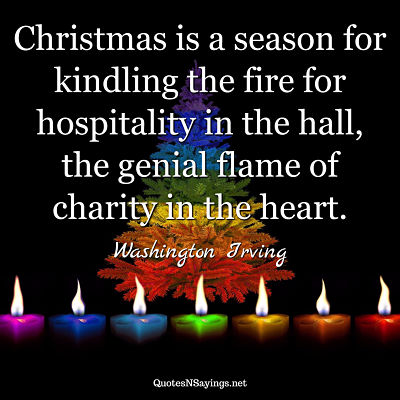 Christmas is a season for kindling the fire for hospitality in the hall, the genial flame of charity in the heart.

Washington Irving
If 'ifs' and 'buts' were candy and nuts, wouldn't it be a Merry Christmas?

Don Meredith
Were I a philosopher, I should write a philosophy of toys, showing that nothing else in life need to be taken seriously, and that Christmas Day in the company of children is one of the few occasions on which men become entirely alive.

Robert Lynd
Blessed is the season which engages the whole world in a conspiracy of love.

Hamilton Wright Mabie
Christmas is the season of joy, of holiday greetings exchanged, of gift-giving, and of families united.

Norman Vincent Peale
Instead of being a time of unusual behavior, Christmas is perhaps the only time in the year when people can obey their natural impulses and express their true sentiments without feeling self-conscious and, perhaps, foolish. Christmas, in short, is about the only chance a man has to be himself.

Francis C. Farley
I don't think Christmas is necessarily about things. It's about being good to one another, it's about the Christian ethic, it's about kindness.

Carrie Fisher
Want to keep Christ in Christmas? Feed the hungry, clothe the naked, forgive the guilty, welcome the unwanted, care for the ill, love your enemies, and do unto others as you would have done unto you.

Dr. Steve Maraboli
Christmas waves a magic wand over this world, and behold, everything is softer and more beautiful.

Norman Vincent Peale
I heard the bells on Christmas Day, Their old, familiar carols play, And wild and sweet, The words repeat, Of peace on earth, good-will to men!

Henry Wadsworth Longfellow
Christmas is not an external event at all, but a piece of one's home that one carries in one's heart.

Freya Stark
I love Christmas, not just because of the presents but because of all the decorations and lights and the warmth of the season.

Ashley Tisdale
Christmas is a season for kindling the fire for hospitality in the hall, the genial flame of charity in the heart.

Washington Irving
There are many things from which I might have derived good, by which I have not profited, I dare say,' returned the nephew. 'Christmas among the rest. But I am sure I have always thought of Christmas time, when it has come round – apart from the veneration due to its sacred name and origin, if anything belonging to it can be apart from that – as a good time; a kind, forgiving, charitable, pleasant time; the only time I know of, in the long calendar of the year, when men and women seem by one consent to open their shut-up hearts freely, and to think of people below them as if they really were fellow-passengers to the grave, and not another race of creatures bound on other journeys. And therefore, uncle, though it has never put a scrap of gold or silver in my pocket, I believe that it has done me good, and will do me good; and I say, God bless it!

Charles Dickens, A Christmas Carol
Bless us Lord, this Christmas, with quietness of mind; Teach us to be patient and always to be kind.

Helen Steiner Rice
Christmas gift suggestions: to your enemy, forgiveness. To an opponent, tolerance. To a friend, your heart. To a customer, service. To all, charity. To every child, a good example. To yourself, respect.

Oren Arnold
My idea of Christmas, whether old-fashioned or modern, is very simple: loving others.

Bob Hope
At Christmas play and make good cheer, for Christmas comes but once a year.

Thomas Tusser
Christmas is not just a time for festivity and merry making. It is more than that. It is a time for the contemplation of eternal things. The Christmas spirit is a spirit of giving and forgiving.

J. C. Penney
The smells of Christmas are the smells of childhood.

Richard Paul Evans
Christmas, children, is not a date. It is a state of mind.

Mary Ellen Chase
I wish we could put up some of the Christmas spirit in jars and open a jar of it every month.

Harlan Miller
Christmas is the keeping-place for memories of our innocence.

Joan Mills
Christmas is not a myth, not a tradition, not a dream. It is a glorious reality.

Billy Graham
One of the most glorious messes in the world is the mess created in the living room on Christmas day. Don't clean it up too quickly.

Andy Rooney
There's nothing sadder in this world than to awake Christmas morning and not be a child.

Erma Bombeck
Remember, if Christmas isn't found in your heart, you won't find it under a tree.

Charlotte Carpenter
When Christmas bells are swinging above the fields of snow, we hear sweet voices ringing from lands of long ago, and etched on vacant places are half-forgotten faces of friends we used to cherish, and loves we used to know.

Ella Wheeler Wilcox
He who has not Christmas in his heart will never find it under a tree.

Roy L. Smith
When we recall Christmas past, we usually find that the simplest things – not the great occasions – give off the greatest glow of happiness.

Bob Hope
Christmas is not a time nor a season, but a state of mind. To cherish peace and goodwill, to be plenteous in mercy, is to have the real spirit of Christmas.

Calvin Coolidge
Peace on earth will come to stay, When we live Christmas every day.

Helen Steiner Rice
Happy, happy Christmas, that can win us back to the delusions of our childish days; that can recall to the old man the pleasures of his youth; that can transport the sailor and the traveller, thousands of miles away, back to his own fire-side and his quiet home!

Charles Dickens
Heap on the wood! The wind is chill; But let it whistle as it will, We'll keep our Christmas merry still.

Walter Scott, Sr.
When you give up yourself, that's when you will feel the true spirit of Christmas. And that's giving that's serving others and that's when you feel fulfilled.

Joel Osteen
Christmas is a bridge. We need bridges as the river of time flows past. Today's Christmas should mean creating happy hours for tomorrow and reliving those of yesterday.

Gladys Taber
Christmas is doing a little something extra for someone.

Charles M. Schulz
It's not about presents but it is about your presence. Therein lies the spirit of the holiday season.

Julieanne O'Connor
Then the Grinch thought of something he hadn't before! What if Christmas, he thought, doesn't come from a store. What if Christmas… perhaps… means a little bit more!

Dr. Seuss
The only blind person at Christmastime is he who has not Christmas in his heart.

Helen Keller
Christmas is the gentlest, loveliest festival of the revolving year – and yet, for all that, when it speaks, its voice has strong authority.

W. J. Cameron
Christmas is the perfect time to celebrate the love of God and family and to create memories that will last forever. Jesus is God's perfect, indescribable gift. The amazing thing is that not only are we able to receive this gift, but we are able to share it with others on Christmas and every other day of the year.

Joel Osteen
Christmas is taken very seriously in this household. I believe in Father Christmas, and there's no way I'd do anything to undermine that belief.

Carol Ann Duffy
Christmas is a day of meaning and traditions, a special day spent in the warm circle of family and friends.

Margaret Thatcher
Our hearts grow tender with childhood memories and love of kindred, and we are better throughout the year for having, in spirit, become a child again at Christmas-time.

Laura Ingalls Wilder
Christmas Eve is my favorite… I think the anticipation is more fun than anything else. I kind of lost that. The idea that something – food, traditions, an arbitrary date on the calendar – can be special because we decide it should be. We make it special. Not just for ourselves, but for others.

Kiersten White
The Christmas spirit is simply an honest spirit of love for all humanity. It is the force that moves us to give what we can, to help as we are able, and to always be of kind comfort.

Richelle E. Goodrich
Christmas is a necessity. There has to be at least one day of the year to remind us that we're here for something else besides ourselves.

Eric Sevareid
Are you willing to stoop down and consider the needs and desires of little children; to remember the weaknesses and loneliness of people who are growing old; to stop asking how much your friends love you, and to ask yourself if you love them enough; to bear in mind the things that other people have to bear on their hearts; to trim your lamp so that it will give more light and less smoke, and to carry it in front so that your shadow will fall behind you; to make a grave for your ugly thoughts and a garden for your kindly feelings, with the gate open? Are you willing to do these things for a day? Then you are ready to keep Christmas!

Henry Van Dyke
Christmas, my child, is love in action. Every time we love, every time we give, it's Christmas.

Dale Evans Rogers
At Christmastime, whenever I feel overwhelmed and a little out of sorts, all I have to do is think of my father and the things he'd be doing if he were here – and I smile.

Peggy Toney Horton
There has been only one Christmas – the rest are anniversaries.

W. J. Cameron
Christmas is not as much about opening our presents as opening our hearts.

Janice Maeditere
I will honor Christmas in my heart, and try to keep it all the year.

Charles Dickens
Christmas is joy, religious joy, an inner joy of light and peace.

Pope Francis
I know what I really want for Christmas. I want my childhood back. Nobody is going to give me that. I might give at least the memory of it to myself if I try. I know it doesn't make sense, but since when is Christmas about sense, anyway? It is about a child, of long ago and far away, and it is about the child of now. In you and me. Waiting behind the door of or hearts for something wonderful to happen. A child who is impractical, unrealistic, simpleminded and terribly vulnerable to joy.

Robert Fulghum
At Christmas play and make good cheer, for Christmas comes but once a year.

Thomas Tusser
At Christmas, all roads lead home.

Marjorie Holmes
As long as we know in our hearts what Christmas ought to be, Christmas is.

Eric Sevareid
When Christmas bells are swinging above the fields of snow, we hear sweet voices ringing from lands of long ago, and etched on vacant places are half-forgotten faces of friends we used to cherish, and loves we used to know.

Ella Wheeler Wilcox
Peace on earth will come to stay, When we live Christmas every day.

Helen Steiner Rice
Merry Christmas Quotes
If you enjoyed these Merry Christmas quotes, be sure to check out the remainder of our site for lots more inspirational and moving quotes, including our other holiday quotes such as these: